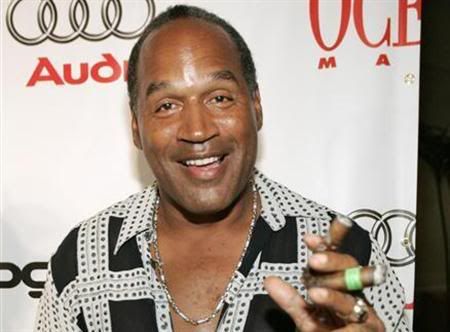 Can you believe this turd? Check out the money he's going to make now:
LOS ANGELES (Reuters) - More than a decade after he was acquitted of murdering his ex-wife and her friend, O.J. Simpson will describe in a televised interview how he would have committed the crime if he were the one responsible, the Fox network said.
The taped interview was conducted by publisher Judith Regan, who is putting out a book Simpson wrote in which he "hypothetically describes how the murders would have been committed," Fox said in a statement on Tuesday.
The interview will be the basis for a two-part Fox special, tentatively titled "O.J. Simpson: If I Did It, Here's How It Happened," airing on November 27 and November 29, Fox said. The book, "If I Did It," goes on sale on November 30.
A California jury in 1995 found the former football star not guilty of murder in the June 1994 stabbing deaths of his ex-wife, Nicole Brown Simpson, and her friend, Ron Goldman, concluding a sensational trial that riveted the world's attention.
A civil court jury in February of 1997 found Simpson liable for the deaths and ordered him to pay $33.5 million in damages to the families of the victims.
Lawyers for Goldman's parents have said they would attempt to garnish any of Simpson's future earnings to satisfy the judgment, which he has vowed never to pay.
Simpson has always insisted that he was wrongly accused of the killings.
According to Fox, Simpson agreed to an unrestricted interview with Regan, in which he "describes how he would have committed the murders if he were the one responsible for the crimes."
In a brief promotional clip from the interview posted on Fox's Web site, Simpson, says, "I don't think any two people could be murdered without everybody being covered in blood."
He is also seen setting aside a copy of a book he is reading from -- presumably his own -- and saying, "I can't do no more of this."
Regan Books is an imprint of book publisher HarperCollins, which, like Fox, is a unit of News Corp. Ltd.
© Reuters 2006. All Rights Reserved.